We know that trauma is inherently dysregulating – and as teachers, there are so many things we have no control over – we can not control the trauma our students may have experienced, we can not control how a student's morning was before they got to school, we can not control poverty – the ONLY thing we truly can control is ourselves. So when we consider regulation – it is through regulating ourselves that we are teaching our students the most powerful lessons – and modeling what safe expression and control of emotions can look like.
We are the most important "trauma-informed" tool we will ever have to teach our students regulation skills. We must continuously practice and model our own self-regulation. Whether that means keeping a calm tone and demeanor during times of stress or narrating for your students how you handle your own big emotions. This interactive and supportive process is called co-regulation and it can be broken down into three interconnected categories.
Co-Regulation
The research is clear that it all begins with relationships – so the first component of co-regulation is also the use of relationship to regulate and respond to a young person's needs. It is through these relationships we are able to provide comfort to students, be a mirror as they share their thoughts, ideas, and perspectives, and model what genuine interest and respect for others looks and feels like.
The second component is how we structure the environment to facilitate regulation. When we create classrooms that reflect the trauma-informed principles, with clear expectations, consistent routines and opportunities to practice regulation skills we are setting up "low stress" environments for our students.
The last component includes explicit teaching, modeling and coaching self-regulation skills like problem-solving, calming and organization. Sometimes this can be done in more formalized ways such as an SEL curriculum or Morning Meeting structure but it also happens in the moment. Many times our behavior intervention, SPED and mental health teams are our biggest collaborative partners in this piece as well – reminding us of the power in collaboration
All three components can occur both informally and formally but the more we create our classrooms and communities with these components in mind, the more we are able to provide co-regulation for all of our students. Research shows the combination of teachers modeling and providing direct SEL skill-building instruction to be most effective for all age groups.
Teaching & Coaching Regulation Skills in the Classroom
Regulation skills help to restore all of the trauma-related disruptions by fostering student agency in coping with stress, generating a sense of dignity/pride in their ability to manage their own behaviors and emotions, and enhancing a sense of belongingness through shared learning and exploration—all of which are necessary to meet the ultimate goal of academic engagement and success. Important considerations include:
Skills most often need to be taught if our goal is to make sure every student has what they need for educational success (in other words, we can't assume that our students come to us with these skills already developed).
This requires collaboration with our students to understand different needs for safety and different opportunities to learn and practice these skills.
We empower our students with the skills they need to turn down their survival brain.
We are giving students the tools to build strong and healthy relationships with their peers.
Deep Breathing & Mindfulness
Deep breathing and mindfulness are tools we can use in our classrooms to help our students regulate. Mindfulness is non-judgmental present moment awareness or the act of actively noticing. Practicing deep breathing and mindfulness helps kids learn how to calm down, self-regulate, and manage stress. Check out these Safe Schools NOLA Tip Sheets for activities for K-4 and activities for 5-8.
Calm Down Corners
A "Calm Down Corner" (a.k.a. Think Space, Peace Corner, Safe Place, etc.) is a space within the classroom that students can utilize to regulate their physical and emotional state. The purpose is to help them regain behavioral control not punishment. Having a calm down corner includes teaching and practicing the SEL skills students need to strengthen their ability to regulate. By allowing them to practice these skills in the classroom we strengthen relationships and communicate to students that they belong in this community. Check out the Safe Schools NOLA Calm Down Corner tip sheet for more information.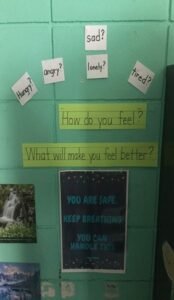 Videos
Additional Resources
Self-Regulation & Co-Regulation
Calm Down Corners
Deep Breathing & Mindful Movements